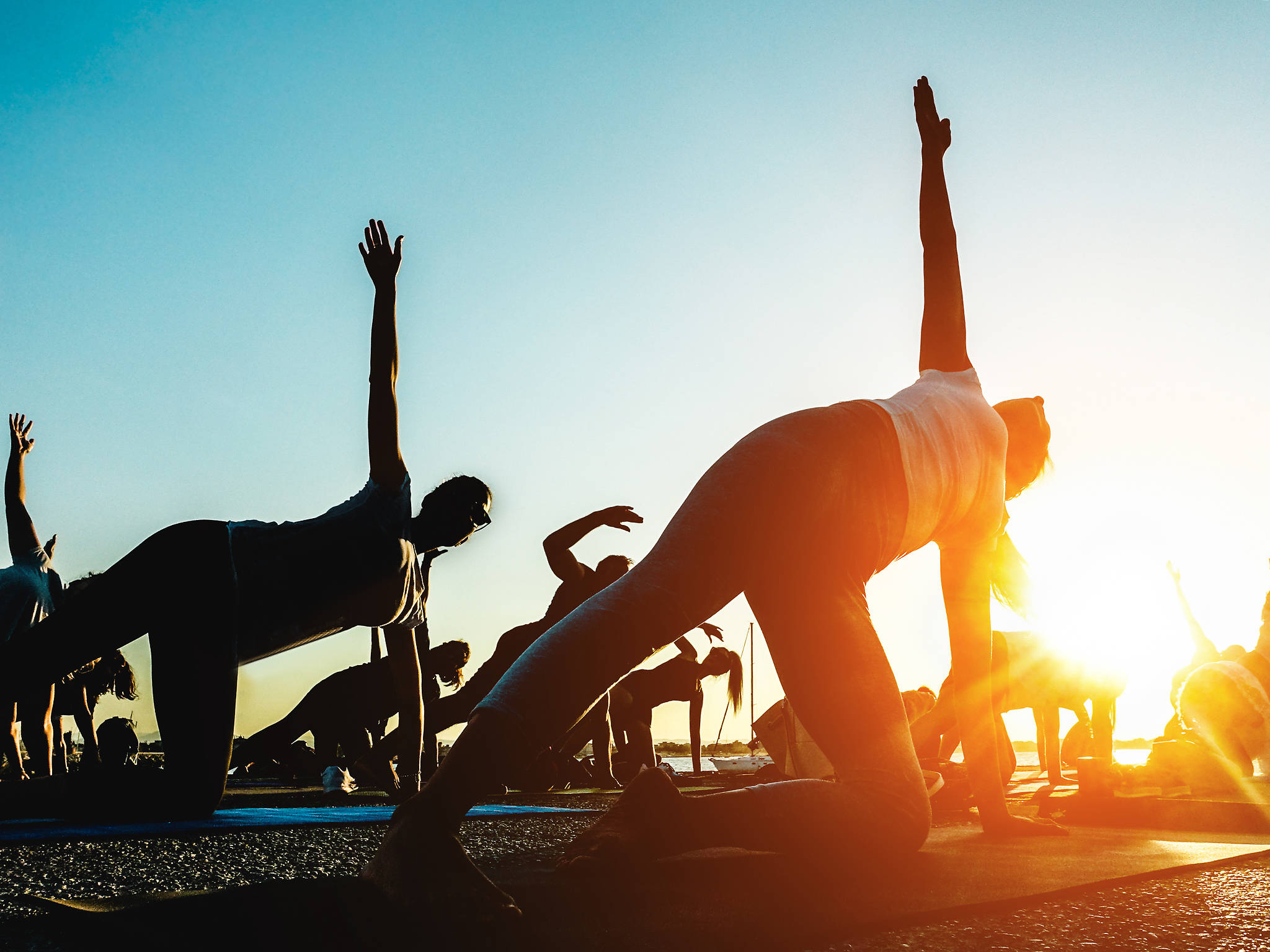 New York's best outdoor fitness classes
If you've walked through any city park over the last few weeks, you've probably seen them: small groups doing push-ups, jumping jacks and more while getting yelled at (sorry, we mean motivated) by an energetic instructor. While gyms in New York may have finally reopened, indoor group fitness classes are still a no-go. As a result, gyms and independent instructors have taken the matter into their own hands, hosting pop-up outdoor workouts all over the city. We've rounded up our 10 favorites of the moment.
Eat
The midtown restaurant VIV offers consistently delicious versions of Thai dishes, in generous portions at a reasonable price. You can't go wrong, but the Red Curry and Queen of Siam Basil preparations are my favorites. (And the elegantly long crispy spring rolls make a very tasty first course.)
Drink
The Broadway world was saddened last week when the beloved Hourglass Tavern, long a favorite pre- and post-theater destination, announced that it would close for good at the end of September. You still have a few weeks to grab a drink there before the curtain falls.
Do
The Wooster Group has been among the leading avant-garde theater companies in the country for decades, and for the past several months it has been streaming recordings of past productions for free. Through September 14, you can watch the beautifully evocative The B-Side, which reconstructs a 1965 documentary recording of Black prisoners in Texas.
A citywide photography exhibition is coming to NYC
The annual photography festival, Photoville, usually takes place in Brooklyn Bridge Park for two weeks every fall. This year, however, you won't have to travel to see the photography. The photography's traveling to you. Rather than being contained to just one location, the festival will be spread out across 25 locations all over the city. The fest kicks off next week and lasts for a whopping two months.
Time to hit the slopes! (Wait, what?)
You read that correctly. Big Snow, the first indoor ski slope in North America, has reopened for some cold weather fun in the heat of September. If you're looking for a truly unique activity to try over the next few weeks, consider making a reservation for this climate-controlled facility in East Rutherford, NJ which features a 160-foot hill complete with a chair lift. (The apres ski situation is on you to figure out.)
paid content
Stop by these local spots this week
Awesome margaritas and tacos delivered
A world of margarita flavors plus combinations delivered to your door, together with a variety of taco options to mix and match
Bareburger has you covered
Vegan? Non-vegan? Doesn't matter: you're gonna love the excellent 50/50 menu at Bareburger. Check them out today
Hit up a rooftop comedy show this week
Like dark dive bars and crowded dance floors, comedy clubs feel like they're firmly a feature of the Before Times in NYC. But don't be fooled! There are still spots to go for a laugh in the city. One of those, the Brooklyn venue The Tiny Cupboard, is now operating as a rooftop comedy club. The DIY space is currently hosting multiple shows a week featuring funny local comedians on a rooftop in Bushwick. The shows range from $5–$7 bucks, but the views are free.
Showcasing the best shots of NYC—straight from you!
Visit @timeoutnewyork for more great pics!
One last thing before we go…
Craving a shopping trip? Starting tomorrow, you'll be able to once again visit indoor malls in NYC.